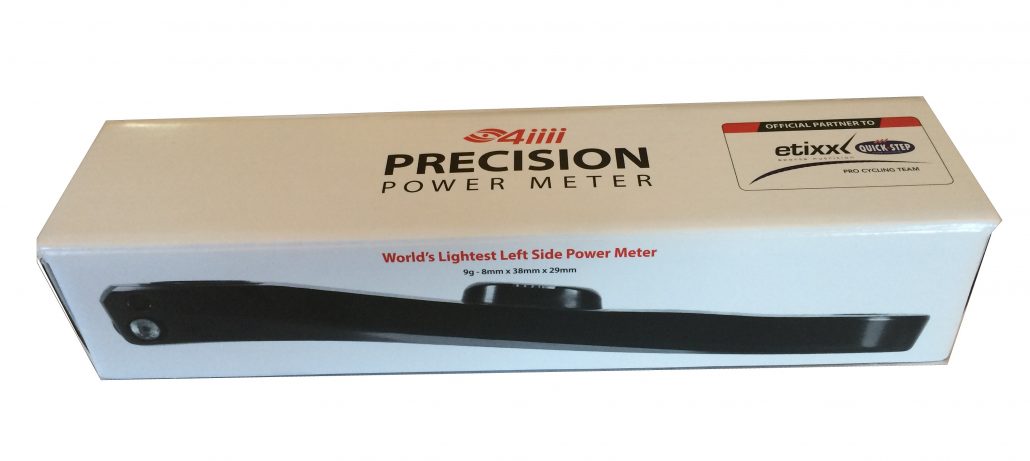 April 14, 2016 (Cochrane, Alberta) – 4iiii Innovations Inc. (4iiii), a global trendsetter in sport monitoring technology, introduces the industry's first, patent pending 3D crank based power meter, PRECISION 2.0.
"Capturing all forces on the cranks in three dimensions (bend, shear and axial) moves traditional power monitoring a quantum step ahead to improve accuracy and lay the foundation for new features," says Kip Fyfe, CEO of 4iiii. "This increase in power data quality and quantity is key to empowering coaches and cyclists with the detailed feedback they need to optimize their training and racing."
Using a new streamlined and lightweight pod design and building on the robust technology of its predecessor, PRECISION 2.0 delivers industry-leading 99%+ power accuracy, dependable cadence data, broad head unit and device compatibility through both ANT+ and Bluetooth Smart wireless protocols, easy calibration, as well as over-the-air firmware upgrades using the 4iiii iOS and Android apps.
In addition to its novel, patent pending 3D technology, PRECISION 2.0 comes to market in two delivery methods, Factory Install and Ride Ready.
Through the company's custom Factory Install program, users and dealers can send in their compatible left aluminum cranks now for immediate installation. This offering accommodates customers with tight frame/crank clearance combinations and enables riders to utilize compatible cranks not available in the Ride Ready program. With a retail price of $399 US, the Factory Install offering can be purchased now at 4iiii.com and through participating dealers with a current lead time of one to two weeks.
With its sights on building strong dealer relationships for the sale of its PRECISION 2.0 power meters, 4iiii introduces the new Ride Ready offering. Available for purchase now and on shelves starting in July, Ride Ready is an off the shelf left crank power meter with initial offering in three Shimano road models and two Shimano mountain bike models. PRECISON 2.0 in Ride Ready starts at $399.99 US.
The company's first left and right dual PRECISION 2.0 configuration, also being announced today, will similarly feature 4iiii's patent pending 3D technology and be available in July through the Factory Install program.
"We designed Ride Ready with dealers in mind, to give customers quick easy access through their preferred specialty bike retailers." says Chris Nieckar, Brand Channel Manager. "Through the Factory Install option, dealers can also utilize their own crank inventory and add unique value for their customers."
ABOUT 4iiii INNOVATIONS
4iiii Innovations Inc. is a global, Canada-based leader in providing innovative sports electronics to both OEM and retail markets. 4iiii has a complete family of products that take sports technology to a whole new level. The PRECISION power meter, Viiiiva heart rate monitors as well as the 4iiii app – are all intended to leverage technology for advancing the athletic performances of enthusiasts through to professional athletes.. For more information: 4iiii.com.
Media Contact
4iiii Innovations Inc.
Marie-Hélène Thibeault
E: info@4iiii.com