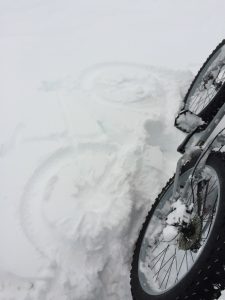 'Tis the season for Fat Bike Snow Angels!
As you may have noticed, we included two, early-adopter Christmas presents in the recent PRECISION power meter firmware upgrade.
These two cycling dynamic features – Left-side Pedal Smoothness and Left-side Torque Effectiveness – are exclusively available if you have already purchased PRECISION or if you purchase a PRECISION by January 15th, 2016.
Here's how these features can take your cycling to new heights:
Pedal Smoothness measures how uniformly force is applied to the crank during a pedal revolution. For example, an output of 100 percent would indicate that you're able to deliver the same amount of force all the way around the pedal stroke. This is nearly impossible since the human leg delivers far more force on the down stroke than on the upstroke. Knowing your pedal smoothness can be an effective way to improve your pedal stroke throughout the entire pedal rotation – not just on the down stroke.
The second, time-limited PRECISION feature we are sharing with you is Torque Effectiveness. This feature measures how much of the torque you deliver per pedal stroke actually helps to move your bike forwards. For example, a Torque Effectiveness of 80 percent would indicate that 80 percent of the torque you are applying is moving your bike forward, while 20 percent of the torque you exert on the pedal is actually working against you or wasted as heat or noise. Similarly to Pedal Smoothness, this is a great metric for helping you grow more mindful of your stroke and its impact on your energy output and efficacy.
Both of these features are single, left-side only implementations. While not the full dual-sided picture, this is a unique opportunity for you to test drive developments percolating at 4iiii.
As for PRECISION purchases made after January 15th, 2016, those units will come equipped with the same base product features designed to keep you ahead of your game:
• Lightweight, compact 9 gram (0.32 ounce) left crank design
• Accurate, consistent data (typically +/- 1% error)
• Improved battery life (100 hours on a 2032 coin cell)
• Battery status indicator (15% battery notification)
• Over-the-air upgrade capability for adding new features and updates
• Compatible with both ANT+ and Bluetooth Smart head units
• Smartphone compatibility
• User-friendly 4iiii app
• User configurable Rider Compensation Factor
• Improvements to saving zero offset and calibration values
• 4iiii Product Platform Integration
To take advantage of this offer and incorporate both Pedal Smoothness and Torque Effectiveness into your cycling regime, order your PRECISION power meter before January 15th, 2016.
Place an order now or for more product information, CLICK HERE.
This Holiday, ride hard and ride smart with PRECISION.