FOR RELEASE Sept 18, 2018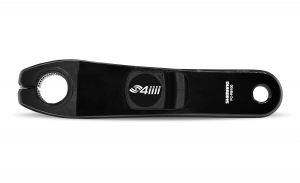 Reno, NV., U.S.A (Sept. 18, 2018)- 4iiii Innovations Inc. announces the much anticipated Ride Ready offering of Podiiiium PRECISION powermeters at Interbike 2018, the largest annual industry bike show in North America.
Podiiiium, the rechargeable, low profile offering in the PRECISION product family is now available and shipping on Shimano Dura-Ace, Ultegra and 105 non-drive side crank arms. Previously only available as a Factory Install option on user supplied cranks,
Podiiiium now joins the PRECISION Ride Ready lineup online and in stores worldwide.
At just 7.5 grams, Podiiiium shares the same lightweight, accurate, waterproof and extremely durable features that cyclists have come to expect from 4iiii, and is compatible with other PRECISION Powermeters to complete dual configurations. Podiiiium Ride Ready is available starting at $399.99 for the 105, $499.99 for Ultegra and $599.99 for Dura-Ace in US dollars.
"The Podiiiium platform shows our commitment to building innovative products with our customers' needs in mind. Being rechargeable, Podiiiium removes the need to change batteries and the low profile fits discreetly and protected behind the chainring. " says Product Manager, Scott Cooper, Ph.D.
For those looking for the best powermeter to be installed on their own crank, 4iiii offers its custom Factory Install program with compatibility options including SRAM, Campagnolo, FSA and many more. 4iiii supports powermeter installation on alloy and carbon cranks maintaining an accuracy of +/-1% on the products delivered. Podiiiium is designed to support a full suite of dual compatibility which gives the customer more flexibility to choose single or dual to support their training needs. A full list of Factory Install compatible cranks can be found at 4iiii.com/
Ride Ready Podiiiium PRECISION Powermeters will be launched at Interbike 2018 in Reno, Nevada and will be available for customer purchase immediately.
-30-
To download our full media release click here.