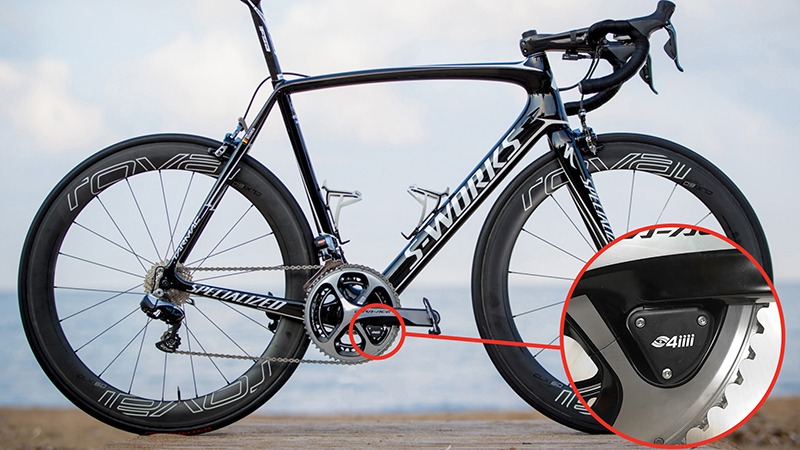 April 14, 2016 (Cochrane, Alberta) – 4iiii Innovations Inc. (4iiii), official partner and supplier of power measurement to the men's World Tour Team Etixx – Quick-Step, announces that the dual left and right power meter, PRECISION PRO, will be commercially available this July.
This offering will be introduced through the company's established Factory Install program for $749.99 US and initially installed on customers' and dealers' own Shimano's Dura Ace 9000 cranksets.
This is the first dual model to ship from the long anticipated family of dual (left and right) PRECISION power meters. The company will disclose its roadmap to address dual on a broader family of cranksets in the fall.
PRECISION PRO utilizes the company's novel, patent pending 3D strain gauge technology to deliver industry-leading 99%+ power accuracy. The right and left power meters communicate creating a dynamic backup system that increases redundancy to ensure every ride is measured. The sophisticated device also provides cadence, broad head unit and device compatibility through both ANT+ and Bluetooth Smart wireless protocols, easy calibration, as well as over-the-air firmware upgrades using the 4iiii iOS and Android apps.
"PRECISION has proven to be a solid performer on and off the road, and now with PRECISION PRO, 4iiii provides reliable accurate power feedback for all levels of athletes," says Emma Bédard, PRECISION Product Manager. "Power helps riders focus on how their body reacts to training. While single sided power meters meet the needs of most riders, dual sided power provides an extra level of data for those fine tuning their training or those monitoring strength progressions when recovering from an injury."
The company continues to design its left side power meters with the core capability to upgrade to a dual system when it becomes available. Owners and dealers with left PRECISION power meters on Dura Ace will be able to purchase upgrades online starting in May for a July delivery.
ABOUT 4iiii INNOVATIONS
4iiii Innovations Inc. is a global, Canada-based leader in providing innovative sports electronics to both OEM and retail markets. 4iiii has a complete family of products that take sports technology to a whole new level. The PRECISION power meter, Viiiiva heart rate monitors, Sportiiii heads-up displays as well as the 4iiii and Cliiiimb apps – are all intended to leverage technology for advancing the athletic performances of enthusiasts through to professional athletes. For more information: www.4iiii.com.
Media Contact
4iiii Innovations Inc.
Marie-Hélène Thibeault
E: info@4iiii.com