It's a fresh new year and we're as committed as ever to bringing you relevant, timely and, hopefully, interesting information to you on a regular basis. Today, we have a great story from our main man with Team Etixx – Quick-Step.
As you know, last week we announced our partnership with Specialized and our role as official supplier of power measurement for the Etixx – Quick-Step Pro Cycling Team. What we didn't reveal at the time is that one of our staff members, Karel Bergmann, will be with the team and following the riders throughout this race season.
In his role, Karel will ensure optimal usage of our PRECISION power meter, support the team with on-site technical support and collect product insight from riders. Beyond the challenges of having to sharpen up his Flemish, Karel will be our company's eyes and ears on the ground and will get to experience first-hand what it's like to work and ride with a pro team.
Karel's the perfect guy for this job; not only does he hold a PhD in Computer Science, he's a competitive Cat 2 road racer as well.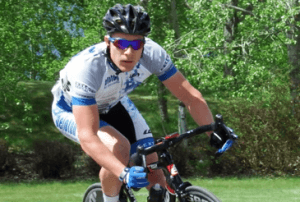 When work meets passion. 4iiii's Karel Bergmann will be on the World Cycling Tour all year to support the Etixx – Quick-Step team with its PRECISION power meters.
Throughout the cycling race season, he'll send us short updates on his adventures as he drafts behind some of the world's best.
We invite you to join in this dialogue by emailing questions you may have for Karel to info@4iiii.com. He'll do his best to seek out answers for you and address them in future posts.
Without further ado, here's his first post!
---
Tour Tales with Karel
Update #1 – Calpe, Spain Camp
January 15, 2016
Greetings readers!
I'm excited to provide this first Tour update and look forward to sharing my experiences with you as I follow the Etixx – Quick-Step team this season.
For the past two weeks, I've been in Calpe, Spain where the team had its second camp of the season and its annual media launch. I'm basically in cycling paradise – though the days are long and hard, the experiences are unforgettable.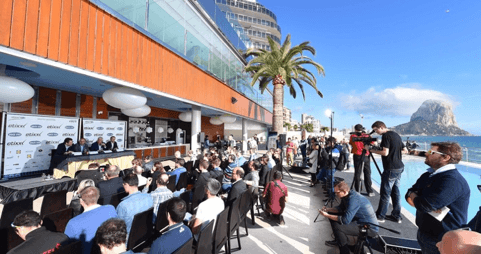 Calpe is located on the Mediterranean Sea. The photo above is of the Etixx – Quick-Step media launch event.
The beginning of each training camp is spent getting all the riders set up with their PRECISION power meters. Once that's done, I can get into the more exciting aspect of the job: to provide product services to the team! Do you know what the best way to get rider feedback about a product is? Getting on my bike and riding with them!
Now, I'm a pretty committed cyclist and I think that if I went with the sprinter group that spends most of their rides on flatter roads, I'd be able to keep up for the duration, as long as I didn't get caught in a crosswind.  But, for some reason (perhaps comedy), I always end up going out with the climbers and, as you all know, there's no where to hide in the hills.
On my first 100 kilometre ride of this trip, we cycled out to Callossa, and then up a crazy climb to Guadalest. The voice in my head kept telling me to just go for it and hold the wheel, so that's what I did until near the very top where I finally came unhitched before turning around with the team, descending and continuing on to Coll de Rates.
Before I even got back to the bottom of Guadalest, I realized there was no way that I would be able to catch back up because something was really wrong. My legs felt like concrete, and a cold, slimy sweat was oozing out of me at record pace.  I had hit the wall big-time. I don't think I've ever cracked this badly before. I ever-so-slowly spun my way up the Coll de Rates from the insane side through Tarbena, stopping multiple times to just sit on the side of the road, but never actually recovering.
Karel captured some footage of his riding with the team while in Calpe.
I finally made it to Tarbena and a nice cycling cafe, so I sat down for 45 minutes and ate and drank everything. I finally started feeling a bit better, so I rode down the other side of the mountain and back to Calpe through Benissa for another 35 kilometres. As I rode, the emotional rider in me became really upset about the whole experience – how could I have let those guys drop me!!!???  Eventually the rational part of me kicked in and I finally realized that I'd been dropped by Dan Martin and company. What the heck did I expect to happen?  Fortunately, I quickly embraced the magnitude of this pretty cool experience and added it to my life list.
Upon returning to Calpe, I was informed by the team that my inability to keep up was simply due to my being far too fat.  Climbing is all about power to weight ratio and since it's too late to add 100W to my FTP, I suppose they're right.  Diet it is!  Every time I sit down to eat, somebody from the team gives my plate a critical look and me a disapproving nod.  For now, I'm happy to have kept up as long as I did!
Next up is getting ready for the camp in Mallorca… and trying to shrink my stomach!
Til the next time,
Adiós!
Karel
info@4iiii.com
Map showing Calpe, Spain located on the Mediterranean Sea.