We're excited to report that the Firmware Upgrades for PRECISION, Viiiiva and Cliiiimb were released this week. If you have not yet seen an email from us, or had prompts on your phone, you can access the over the air feature upgrades here. Here's what you'll gain with the latest upgrades:
4iiii App
Version 1.16.0 on iOS / Version 1.2.0 on Android
• This app is your gateway to emailing stored Activity Logs to your preferred training app or site and the 4iiii web store.
• You can now Customize the Names of both your Viiiiva and PRECISION, which makes it easier to recognize your devices.
Viiiiva Heart Rate Monitor (HRM)
Firmware version 2.0.0
• Tap to Pair is just that – tap your smartphone to your Viiiiva for instant, super simple pairing in any crowded ANT+ or Bluetooth Smart environment.
• Activity Logging (also known as file save, memory and store and forward) lets you save data directly on your Viiiiva HRM even when you aren't carrying your phone. It holds up to 65 hours of ANT+ sensor data.  Activity Logs can be emailed via the 4iiii app to your chosen training software. Of course, you can also see your data in real-time if you have your Sportiiii, smartphone or other compatible displays like smart watch, or bike head unit with you.
• The upgrade's improved heart rate algorithm gives you superior R-R (beat-to-beat) measurement for determining Heart Rate Variability (HRV) and your level of activity readiness. Highly responsive heart rate sensing allows you to see quick changes in your performance (eg. Intervals).
• 10x increase in sensitivity to pick up even the lightest of heart rates.
• Indoor gym Fitness Equipment compatibility connects you to ANT+ enabled cardio equipment.
• Viiiiva is the bridge that connects the 4iiii iOS Cliiiimb app (version 2.2.0) to 4iiii heads up audio visual coach, Sportiiii. With audio and visual cues, Sportiiii is a great tool to keep you in your zone training, and king of your mountain on Strava segments.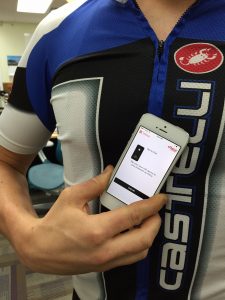 PRECISION Power Meter
Firmware version 0.3.0
• Two battery improvements: You'll go further with PRECISION's 25% improved Battery Life and the Battery Status Indicator will alert you when it's time to change your battery. Pay attention when your battery status shows as 'low' because that means you'll have about 20 more hours before it's time to change out the 2032 coin cell.
• Improvements to Zero Offset allow for robust and reliable handling of calibration values, thus maintaining accuracy.
• The Adjustment Scale Factor was introduced to address the fact that PRECISION is (currently) a left-only power meter, and not everybody has a 50/50 left-right balance. Perhaps from training on some different equipment, you know that your left leg is actually weaker and you have a 45/55 left-right balance. Doubling the power from your left leg (as per PRECISION and all single sided power meters), gives you a total power of only 90% of what you're actually putting out. In order to adjust for this, you can simply set the scale factor to 50/45=1.11111. 50 because 50% is your desired reading for PRECISION (half of your total power output), and 45 because your left leg is actually only putting out 45% of your actual total power. This scale factor can also be used to match PRECISION's output to other training equipment you use.
And now, as we share this much-anticipated release, we wish a Happy Thanksgiving to our US neighbours who will celebrate next week. While you're all prepping for turkey and the trimmings, we offer you a wintery toast with our hometown's world famous McKay's Ice Cream.
Cheers!