By Karel Bergmann
March 9th marked the beginning of UCI Pro Tour racing in Italy.  I was lucky enough to be present for Tirreno – Adriatico and Milan – San Remo.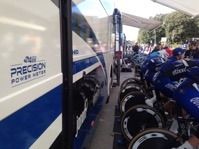 TIME TRIAL IN TIRRENO – ADRIATICO
Tirreno – Adriatico is a stage race from the Tyrrhenian Sea on the west coast of Italy to the Adriatic, on the east. Tirreno – Adriatico, along with Paris – Nice, are major races in their own rights but are also preparatory races for grand tour riders on their way to the Giro d'Italia or Tour de France. Stage racers and climbers generally flock to these races in order to really open up the legs in competition on big climbs as Tirreno crosses the mountain ranges that flow down the Italian peninsula.
Tirreno – Adriatico started with perhaps the most elegant and difficult to pull off event in pro cycling – the team time trial. The riders of each team start together (on time trial bikes), riding as fast as possible across a 22km course, sharing the wind and averaging speeds of approximately 56km/h. What makes the discipline amazing to watch is the close coordination of the teams, riding as tightly together as possible in order to maximize the effects of the drafts of their team mates. They do this at break-neck speeds and on the aero bars (so without easy access to their brakes). Teams will practice the course repeatedly in order to find the best lines and the best order of riders in order to maximize speed. Team Etixx – Quick-Step put in a fantastic ride and it looked like they would be able to emerge victorious, only to be beaten by BMC Racing by a mere two seconds.
On the following stages, nothing was left to chance with great stage victories from Zdenek Stybar and Fernando Gaviria. Unfortunately for the climbers, the queen stage of the race which was to feature a number of sustained climbs, was cancelled due to bad weather.
ITALIAN CYCLING FIESTA
One thing that has become evident in my travels with the team is that each of the world's great cycling nations has its own flavour of fans. Italy is no exception. The start lines and finish lines are lined with fans of all ages, but one group that is very evident is the grizzled old-timers who are in abundance, and all look like they've raced bicycles in the past, or at the very least have been following the sport for ages.
They travel in small groups, hoping to catch a glimpse of their favourite riders. They stroll through the start areas with an air of nonchalance and casual all-knowingness, clutching the pink pages of La Gazetta delo Sport – Italy's sports newspaper – highlighted by a cycling section detailing the latest scandals. Like Sagan finally shaving his legs and the ongoing Pantani saga (think Italian cycling's version of O.J. Simpson and Jimmy Hoffa put together).

The other lively audience you'll find at the start are herds of children clamouring for autographs, water bottles, and screaming the count down for each rider in the final TT. And there you have it, a typical day at an Italian bike race.
SURPRISE WIN AND GAVIRIA CRASH IN SAN REMO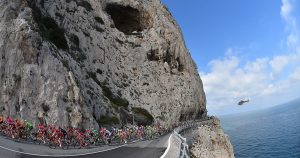 After the final TT in San Benedetto del Tronto, we slowly made our way north to Milan for the beginning of Milan – San Remo, the first monument of the season. The race is nearly 300km long, and quite flat until you get to the last 60km, where some climbs are thrown in. The race is known as a sprinter's race because despite the hills at the end, it is usually won from bunch or reduced sprint. The race can be described as predictably unpredictable. You can usually bet that it'll come down to a sprint, but despite the efforts of bookkeepers, somebody you weren't expecting usually wins it. This year was no exception with Arnaud Demare taking the final sprint after a heart wrenchingly unlucky crash by Etixx – Quick-Step's Fernando Gaviria.  Don't worry, Fernando. You have many years ahead of you, and by the looks of it, many victories too.
INTERESTING HISTORICAL FACT (source)
Milan–San Remo, also called "The Spring classic" or "La Classicissima", is an annual cycling race between Milan and Sanremo, in Northwest Italy. With a distance of 298 km (~185.2 miles) it is the longest professional one-day race in modern cycling. It is the first major classic race of the season, usually held on the third Saturday of March. The first edition was held in 1907.
ABOUT KAREL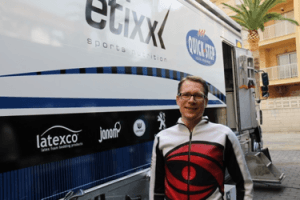 Karel is a 4iiii product manager who's been currently mandated with one task: to ensure Team Etixx – Quick-Step gains the greatest value from riding with PRECISION power meters. When our PhD Computer Scientist is not on the road supporting the world's most decorated cycling team, he's a Cat 2 rider in his home of Calgary, Alberta. Karel will periodically share his Tour adventures. You can read more of his stories at 4iiii.com and send him questions at info@4iiii.com.