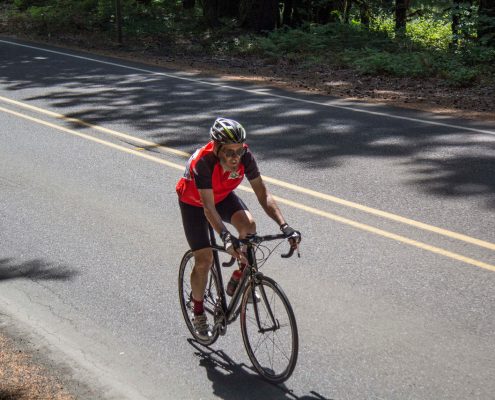 Loren Russell in the last kilometer of the June 2015 Marys Peak Hillclimb Time Trial.
The route has a total ascent of about 4000 feet in 12 miles (1250 m in 20 km).
Name: Loren Russell
Hometown: Corvallis, Oregon USA
Profession: Retired biologist with a PhD in Entomology
PRECISION user since:  July 2015
To what cycling tribe do you belong?
Gravel-grinding and road [solo or with wife], age-group Cyclocross and TT.
When and how did you get into serious biking?
Off and on since early 1970s. I returned in the past 10 years as knee arthritis cut into my running and long day-hikes. My wife [Flo] has raced for the past 12-15 years and nudged me into racing. I'd done a few TTs in my 60s, but have competed regularly only in the past 4-5 years.
Why do you bike?
For the same reasons most endurance athletes do what they do. For fitness, but also a sense of accomplishment, and a way to experience the environment. In Corvallis, I can ride year-round, though my wife and I also hit the Oregon State University student gym several times a week through fall and winter. The feedback is great! After years of adding a pound or two a year, I've been able to drop 12-13 kg of fat. The result is that my great pleasure is now uphills — something I hated when I biked in the 70s and 80s.
What's your current bike and technology?
I have about 6 bikes — the ones I actually ride are 2 Scott CX bikes [an older Al frame, and a newer Addict CX which is getting the Precision]. A road Scott Addict which has the original PRECISION, and a Felt TT. I've upgraded the Felt TT and now the CX Addict to di2 set-up. The road bike is nice but still 9-speed Ultegra, so I'll likely upgrade it or replace over the next winter — keeping the PRECISION crankset of course!
When and why did you start thinking about adding a power meter to your set of tools?
My wife is a lot more methodical than I, and she's used Powertap hubs for a number of years — currently has 3 bikes with Powertap. She works with a coach, but I do see her files and often ride along on her workouts. I always thought that the added mass and the expense of rebuilding wheels to PT hubs wasn't worth it to me. But from the first time I read about PRECISION [on the DC Rainmaker blog], I thought the compactness and price point made it worth trying.
How do you use power data?
For my road bike, we have a limited number of hills close to Corvallis, and most of these climbs are fairly short, up to 1-2 km. Although I've used heart rate as a measure of effort, for me it's really crude, a trailing indicator that varies day to day, and rarely stabilizes on these short drags even if I do shuttle repeats. When I use 3second and 30second power, I get an immediate feedback to effort – I can see progress.
The reason I'm now installing PRECISION on my CX bike is that I do much more than 50 percent of my climbing on gravel roads in the Corvallis greenbelt. These are often longer climbs than on the local roads, so I do use HR. But with uneven surfaces and some very heavy grades [to 17 or 18 percent], I think power will be a better feedback for my efforts.
How has riding with a power meter changed how you ride and your fitness level?
I could see week-to-week progress on the road bike last summer, although I started this a bit down due to early season injuries and allergies. I found myself attacking climbs with more confidence that I wasn't about to blow up. The synergism of adding endurance and dropping weight brought me up to the CX season [at least the early, dry races] in much better shape than previous years.
Do you have a favorite ride?
Locally, my favorite is a 60% gravel/40% pavement route [for either of my CX bikes] that takes me from my back door to Fitton Green [about 10km, 300 m elevation gain], a hilltop meadow with wildflowers and views of Willamette Valley and Coast Range.  I often return from there, a nice 80-90 minute ride, But from the meadow, I have a world of choices for extended rides: dropping northward into MacDonald State Forest reaching more viewpoints along 15-20 of gated and well-graded ridgetop roads, or [again from Fitton Green] I might continue westward to a private road along Marys River, then on paved roads to the tiny communities of Wren and Blodgett and back on gravel logging roads to the local highpoint, Marys Peak.  Depending on my time and energy, I can turn back toward Corvallis at 700m, continue past another gate to 950m, or continue on the main road all the way to the 1300m summit — the high point of the Oregon Coast Range.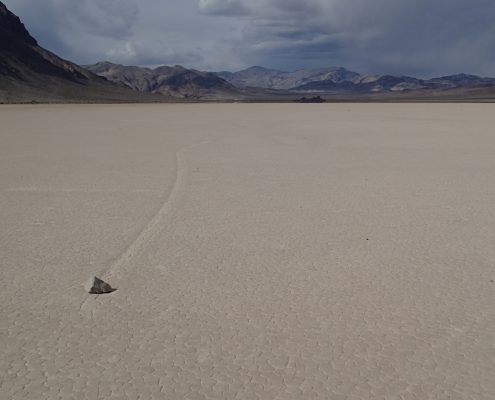 Here I've ridden, sometimes pushed, over a mining road to see the legendary Racetrack Playa in the northwest corner of Death Valley  — this is a dry lake bed where stones mysteriously play at curling when no one is watching.
What is your next big riding challenge?
An annual recreational highlight is the McKenzie Pass highway [Oregon 242], which is opened to bicycle traffic only for several weeks after it's plowed. From the west, I can start from the junction of OR 126 and OR 242, or from a snow gate several miles higher on the road, and gain about 1500m over about 24 km to the pass summit — an amazing landscape of very recent basaltic lava flows, with views of all the Oregon Cascade volcanoes.  Some like to car-shuttle for a traverse to the eastern portal at Sisters, but I really enjoy the downhill run of switchbacks on the west.
The next racing landmark, aside from local TTs, is an OBRA sponsored road hillclimb in mid-June. Normally this is at my local mountain, Marys Peak, but this year it's moved to Mt. Ashland in southern Oregon for a slightly shorter climb. I'm also targeting hill climbs near Mt. Hood [the OBRA championship, which is pure pain], and Larch Mountain; as well as a second event at Mt. Ashland, which I'll likely attempt on my CX bike — thank you Precision!
Then on to CX season.