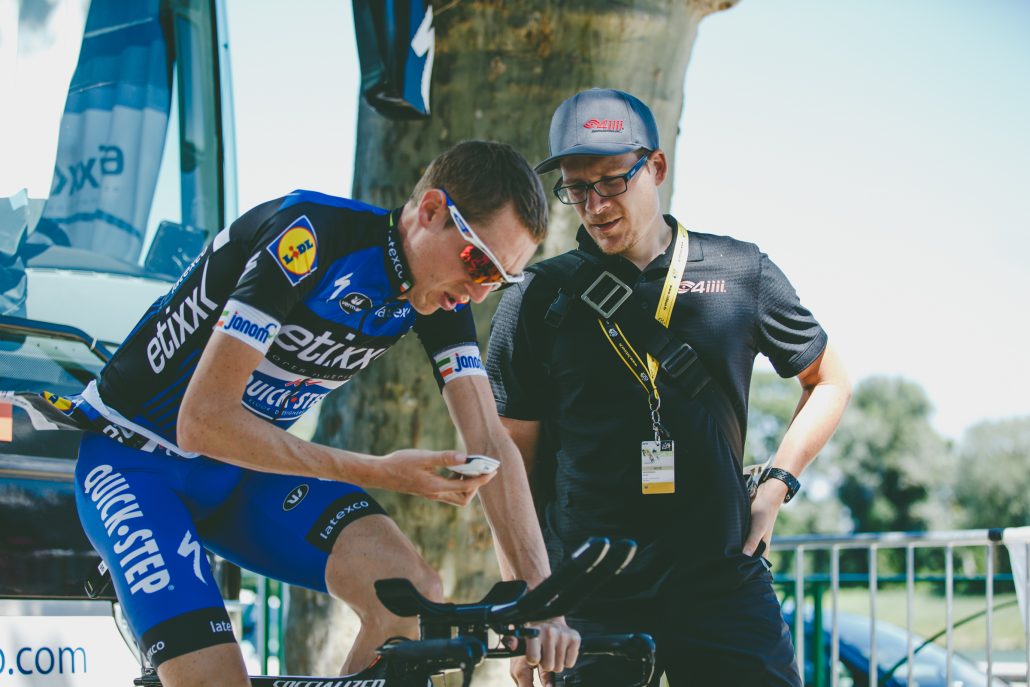 Karel Bergmann, is 4iiii's technical adviser to Ettix-Quick-Step and will be heading over to Spain this month to work with the team during the Vuelta Espana. We asked him a few questions before he left.
How long have you been working with EQS?
I started working with EQS last November.  That's when the team was having their major training camps in southern Spain.  The training camps are the best time to get some face time with the riders and mechanics, which is really important when introducing a new product.
What is it like working with professional riders?
It's a real privilege to be able to work with some of the best riders in the world.  While power data is really important to all of them, they all handle the training and racing a little differently so building relationships and getting to know all of them is important to being able to support them as well as possible.
What's it like travelling in Europe for races?
Traveling in Europe is really interesting because you get so see so many different places, but it can be stressful too.  During my work with EQS there has been a fair amount of unrest in Europe and this can make things a bit more challenging than usual.
It's been very interesting to experience each of the major cycling nations and their different flavours.  One of the biggest surprises was my visit to Andorra during the Tour de France – it went from a place that I barely knew about to one of my favorite spots in Europe.  In my food/coffee/riding/scenery/people matrix it scores very highly in all regards.
What is your favourite race to work with the riders on?
Each race is a little different from a support perspective.  My favorites are the Belgian Classics and Grand Tours.  At most of the big classics, the route crosses over itself many times, so it gives me the opportunity to see the race in person throughout the day, and to see how things are progressing.
This isn't the case at Grand Tours, where I might see the race at the start, and sometimes at the finish, but rarely in between.  On the flip side, during a Grand Tour I get to experience the surroundings a little bit more, and since it's the same 9 riders throughout the race, I get to know the guys a little better.
What are you looking forward to at the Vuelta?
As a cycling fan, I've always loved the Vuelta's steep summit finishes and being there will give me a chance to see the pros race up these climbs, and hopefully experience some of them for myself.  I've always enjoyed the food in Spain, so I'm looking forward to that too, though I'm sure my W/Kg will suffer as a result.
Why would a cyclist ride with a power meter?
Power meters are really the only method we have at our disposal to objectively measure a rider's output.  That's not say that it's the only tool, but it is the best tool there is for monitoring one's progression as a rider.  They also work very well for pacing during time trials and long climbs.  I think that any performance-driven cyclist can benefit from having a power meter on their bike.