Lightweight product design, data accuracy and consstency key to pro continental team
April 8, 2016 (Cochrane, Alberta, Canada) – 4iiii Innovations Inc. (4iiii) is making strides in becoming the cycling industry's power meter of choice by announcing today that it will be the Official Supplier of Power Measurement for the California based Team KHS-MAXXIS-JLVelo for the 2016 season. This news comes weeks following partnerships announcements with the Etixx – Quick-Step men's pro world cycling team based in Belgium and the SAS-Macogep-Acquisio women's pro continental team based in Quebec (Canada).
This latest sponsorship agreement, which was made possible through a collaboration with Praxis Works, will see the team's 10 riders equipped with left-sided PRECISION power meters. Praxis is a top manufacturer of drivetrain components and has supported the team for the past years. 4iiii's industry-leading 9 gram power meters will be factory installed on Praxis' Zayante M30 Road cranks.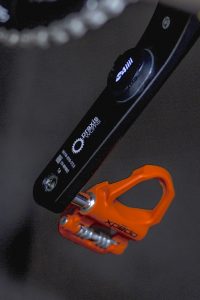 4iiii's left-side PRECISION power meter system delivers real-time, in-depth and accurate power data in watts to cyclists and their coaches. PRECISION features both ANT+ and Bluetooth Smart wireless protocols to simplify connecting with head units, providing athletes with the essential information they need to guide their training and racing intensity levels.
"We're delighted that our product's quality and reliability is opening doors for many amazing recent collaborations with crank manufacturers such as Praxis, bike companies including Specialized and Argon 18, and pro teams like KHS-MAXXIS-JLVelo," said Kip Fyfe, President and CEO of 4iiii. "All of these partnerships support our intent to be the industry's leading, most widely adopted and accessible power meter."
"Praxis has been supporting Team KHS-Maxxis-JLVelo for a few years now with our bottom brackets and it's been a fantastic working relationship," said Adam Haverstock, Brand Director of Praxis. "When we decided to increase our support of the team with the Zayante cranks, we knew right away that we wanted 4iiii to join in and handle the power for the team. The Zayante + 4iiii power is super exciting and we couldn't be happier how it all came together."
Based out of Southern California, the KHS-Maxxis-JLVelo Cycling Team was founded by iPASports in 2010. The team focuses on the NRC, NCC and Regional calendars, and with over 40 wins per season & multiple state and national titles, the team is one of the best in the US.
This partnership marks the first time that all of Team KHS-MAXXIS-JLVelo's riders will be using a common power meter. The team is confident this move will translate into a strategic advantage in terms of data compilation consistency and improved athlete performance tracking.
"4iiii's PRECISION power meter technology offers minimal weight and high quality data output," said Paul Abrahams, Team Owner. "In our sport where every little edge counts, we're delighted to be able to count on 4iiii's technology to support our athletes and help them reach their full potential."
4iiii, Team KHS-MAXXIS-JLVelo and Praxis are attending the Subaru Sea Otter Classic from April 14-17, 2016 in Monterey, California. There, 4iiii is expected to present an exciting new product offering.
CONTACT:
4iiii Innovations Inc.
Marie-Hélène Thibeault
E: mh@4iiii.com