Update #2 – Climbing up to Cumbre del Sol (Stage 9 of the Vuelta a Espana) 
Hola from Calpe, Spain:
As I established in my first post, either I'm just not really that smart or I'm just a sucker for punishment. When I found out that Cumbre del Sol was just a 20km warm-up ride from my hotel, I really didn't have any other option but to get a taste of it myself and recon the climb.
Some of you may remember last year's awesome Vuelta a Espana. The Vuelta has had a bit of a resurgence over the last few years as the route was rejuvenated to showcase Spain's awesome terrain. Long and uninteresting stages have been replaced with team time trials along beautiful coastlines, and mountain stages have been adapted to now included brutal summit finishes that make all but the most talented climbers cringe.
Stage 9 of the 2015 Vuelta a Espana is one of those brutal stages, culminating with a summit finish to Cumbre del Sol. The stage includes a road that winds its way up the side of a steep mountain on the Spanish coast, just north of Calpe. The climb itself isn't that long, only about 4 kilometres, but the sustained nature of the climb and unrelenting grade make it one of those climbs that gets classified by riders as 'ridiculous.' The average grade is 10% (which in itself isn't so terrible) but the problem is that there are ramps up to 28% that certainly make things interesting.
One morning, after finishing some emails, I headed north along the beautiful winding coastal road through Moraira and eventually to the base of Cumbre del Sol. The strange thing about this climb is that because of the topography and the tight roads, you really never get a look at the hill until you turn onto the access road.
You rip through a couple of traffic circles and are presented with a wall of pavement – perhaps the hardest part of the climb.  Naturally, you assume it's just an optical illusion due to your vantage point. But very quickly you realize that even though you keep trying to click your shifter, you've already been in your easiest gear for some time. Your only alternatives are to get out of the saddle, keep at it or fall over. The grade is so steep that you can feel your rear wheel slipping as you bear down on the pedals. You know that you won't have enough leverage to keep them turning if you sit down.
Once past the initial wall, the angle relents, but not by much and not for long. You make a few turns through a housing development before you hit the next straightaway that takes you up the side of the mountain.  It starts civilized enough, but like a cruel joke, the road just gets steeper and steeper until you veer onto the other aspect of the mountain and make a left turn where it gets even steeper! Luckily, this is the home stretch that leads to the very top and a large cluster of radio antennas.
Despite your darkening vision and light headedness from the effort, you can see that you're riding something special. Any driver you see gives you a thumbs up and the road is still painted with the nicknames of riders from last year's Vuelta. One last painted "PURITO" leads you onto the top where you can fall off your bike and wretch.
I definitely pushed it to the limit with an average heart rate of 172 bpm, but it was totally worth it.  So much so that I had to go back a few days later and take an even harder dig at the climb. It landed me in 29th place on Strava on the climb, only a few seconds behind the likes of Nikki Terpstra and Lawson Craddock.  It appears that my efforts to become less fat are slowly paying off (see my first post!). But I think there's still a ways to go.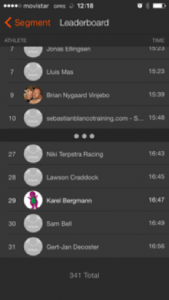 As I'm with the Etixx – Quick-Step team, I'm riding with a PRECISION PRO dual power meter and it told me that had I really been on form, I would have gone even faster. Through the ride, I produced an interesting scatter plot with Golden Cheetah, plotting power on the x-axis and torque effectiveness (TE) on the y-axis.  Blue and red dots are data points from each of my legs.  The two shades of green are data points while I was actually on the climb. What we see is that TE is quite variable when not riding at high power, but when I really start to work, such as on a steep climb, it goes to nearly 100%.

Torque effectiveness / Cadence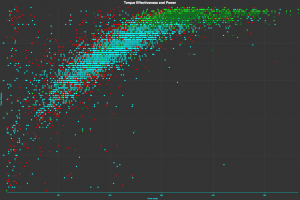 Torque effectiveness / Power
There are a few ways to interpret this:
1) Your body delivers at higher efficiency when required.
2) What if I trained myself using torque effectiveness to pedal like I do during hard efforts all of the time?  How much energy would I save by the time I got to the climb? How much faster would I have gone up the climb if I hadn't squandered that energy through ineffective torque delivery while on my way there?
Til next ride!
Karel
P.S. Below is a youtube video of someone else riding up the Cumbre de sol route. Great inspiration for your trainer rides!
ABOUT KAREL
Karel is a 4iiii product manager who's been currently mandated with one task: to ensure Team Etixx – Quick-Step gains the greatest value from riding with PRECISION power meters. When our PhD Computer Scientist is not on the road supporting the world's most decorated cycling team, he's a Cat 2 rider in his home of Calgary, Alberta. Karel will periodically share his Tour adventures. You can read more of his stories at 4iiii.com and send him questions at info@4iiii.com.